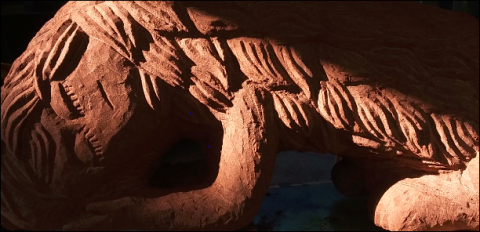 The Exhibition for the UN Conference on Climate Change, COP23 at The Ministry of Environment, Berlin
Artists: Andreas Blank, Stefano Cagol, Miru Kim, Nezaket Ekici & Shahar Marcus, Janet Laurence, Reifenberg, Stefan Rinck, Erwin Wurm, Shingo Yoshida
Curators: Constanze Kleiner & Rachel Rits-Volloch
Duration: 3. – 5. November 2017 I 4 – 8 pm
Address: Bundesministerium für Umwelt, Naturschutz, Bau und Reaktorsicherheit, Stresemannstraße 128-130, 10117 Berlin (Admission is free).
Landscapes of Loss, the exhibition for COP23 at Berlin's Ministry of Environment, asks us to stop and take the time to think in the long-term. This exhibition of contemporary art brings together ten international artists with strong links to Berlin, who, each in their own way, address mankind's role in relation to the environment. Through video, photography, and sculpture, this exhibition is designed as an antidote to the hyper-immediacy of the lives we live. Landscapes of Loss invites us to disengage from our phones and iPads, to switch off the data stream, to stop tweeting and messaging, to opt out of the constant barrage of the now and immerse ourselves in our planet - from the Arctic tundra of Siberia, to the deserts of the Middle East, and the jungles and seas of the Antipodes – while we still can. As the world's climate change experts convene in Bonn in mid-November for COP23, Landscapes of Loss creates a space of contemplation and time for reflection upon the role we all play in ensuring that the decisions taken this year will in the long-term halt the disastrous deterioration of our planet's climate.
The video works from this exhibition will also be shown in Bonn at COP23 between 6 – 17 November 2017.