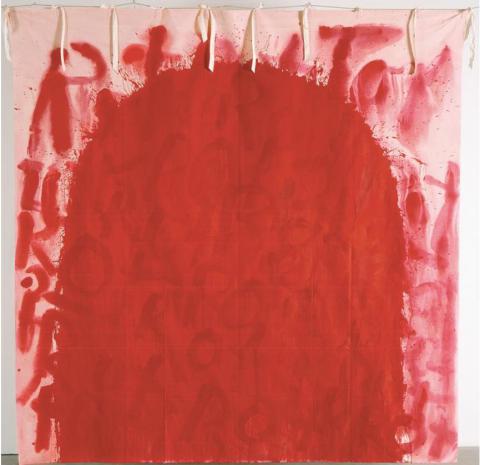 Sursum Corda: Lift up your Hearts
Artists: Karol Broniatowski, Jan Knap, Otto Piene, Günther Uecker, and Alexandra Vogt as well as historic paintings from the SØR Rusche Collection Oelde/Berlin
Curators: Constanze Kleiner, independent curator, and Dr. Stephan von Wiese, independent writer and curator.
The Archdiocese of Berlin will host its second annual autumn reception with the motto "Misericordiae Vultus – The Face of Mercy" in mind. This will take place on November 15, 2016, at 21:00, on the eve of the last day of the Holy Year of Mercy.
Those invited to this special event include distinguished representatives from political and religious life as well as members of civil society and the scholarly, business, and cultural communities.
Responding to the Holy Year of Mercy, this year's autumn reception will be accompanied by an art exhibition that gives sensory expression to the papal appeal.
The reception on November 15, 2016 also marks the official opening of the exhibition "Sursum Corda: Erhebung der Herzen," which will be on view to the public for five more days, from November 16 to 20. 
The autumn reception and exhibition will be held in a historically significant location. Archbishop Dr. Heiner Koch invites his guests to Tiergartenstrasse 15, 10785 Berlin, the new building of the Representation of the Federal State of Baden-Württemberg. Here once stood the villa of James Simon (1851–1932), a leading German art patron and philanthropist of Jewish heritage who was active in the decades around the turn of the previous century.
This reception and the accompanying exhibition grapples with a question: 
What are we doing today – all of us, regardless of whether we are European or the citizens of other continents, whether we or rich or poor, young or old – to put a stop to the callousness, to the violence, and to the general coarsening that is taking place on the small as well as the large scale?
http://www.tagesspiegel.de/kultur/ausstellung-sursum-corda-was-worte-aus...
Dr. Martina Köppen
Director of the Berlin-Brandenburg Catholic Office
katholischesbuero@erzbistumberlin.de, (030) 28 04 64 28
Under the patronage of the German Federal Minister for Environment, Nature Conservation, and Nuclear Safety, Dr. Barbara Hendricks and with the generous support of:
Bundesminesterium für Umwelt, Naturschutz, Bau und Reaktorsicherheit
Vertretung des Lamdes beim Bund Baden-Würtenberg
SOR Ruche Sammlung
Schomerus
LBC