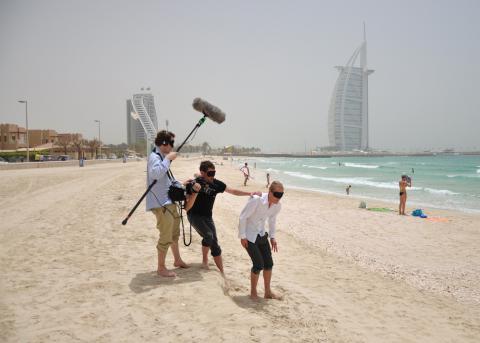 April 13 – May 18, 2013
Artist: Christian Jankowski
Curator: Constanze Kleiner
The starting point for the work on THE EYE OF DUBAI was an invitation Christian Jankowski had received from the BBC television network to participate in one of the episodes of the Collaboration Culture series. In this series creative individuals from different cultures get paired up to produce a new work of art.
Following the Collaboration Culture series idea, the BBC connected Jankowski to a Dubai-based curator Rami Farook. The BBC did not accept Jankowski's initial idea to blindfold the entire BBC crew during their stay in Dubai. Regardless of that, Jankowski along with his own Berlin based film crew arrived in Dubai blindfolded. While acting as a guide to Jankowski and his team, Rami Farook became an emblematic figure of the entire process.
Jankowski did not want to influence the selection of locations in Dubai. Instead, he delegated this task to Farook, whose personal tour of Dubai started at Burj Khalifa, the highest building in the world (829 m). Among other places, he led the "blind" team to an artist studio, a gallery, and an indoor ski resort. After reaching each location, Farook left the German film crew without telling them where they were.
In the key scene in the desert blindfolded Jankowski tells a blindfolded falcon the story of Joseph Beuys and the coyote. At this point, there is a transition from black and white film to colour, and the position of the blind falcon is replaced by the entire BBC crew.
On the last night of their stay, a few seconds before the red carpet premiere of the film, Farook removed Jankowski's blindfold so that the artist - and later his crew - could finally see the result of their work and the faces of their collaborators. During the premiere, the authors of THE EYE OF DUBAI project were able to compare their "inner" images and non-visual impressions with the images in their film. 
Now the project consists of two films. One made by Jankowski's blind film crew, the other a documentation of this project produced by the BBC, which has been broadcast to 330 million homes and more than 200 countries worldwide.
Christian Jankowski was born in 1968 in Göttingen, Germany, and lives and works in Berlin. His videos, films, and installations have been exhibited nationally and internationally in places such as Sala de Arte Publico Siqueiros, Mexico City, MX (2012), MACRO, Rome, IT (2012), Nassauischer Kunstverein Wiesbaden, DE (2009), Kunstmuseum Stuttgart, DE (2008), Miami Art Museum, Miami, FL (2007), and MIT List Visual Art Center, Massachusetts (2005). He has participated in numerous Biennials, including the Venice Biennial in 1999, the Whitney Biennial at the Whitney Museum of American Art, New York in 2002 and the Taipei and Sydney Biennials in 2010.
partners: Miasto Szczecin, The National Museum in Szczecin, 13 muz, Elefunk the Club, Odra Zoo, CRSG - Centrum Rozwoju Społeczno-Gospodarczego, Grupa Reklamowa ZAPOL, Systemy Oświetleniowe Light Art